ICG IC6 Excercise Bike
Made for cycling enthusiasts who cares about rezults - The IC6 combines innovative design with high-quality mechanical and electronic components. The WattRate® TFT computer 2.0, with integrated power supply, displays performance indication in watts, data exchange with external devices as well as Coach By Color® intensity guide for the user and instructor.
Why IC6 Excercise Bike?


Magnetic Resistance
Magnetic resistance rapid resistance control - The resistance dial gives the user tactile feedback and also allows quick adjustment. Located directly beneath the handlebar, the 300-degree dial is easy to reach from all riding positions.

Ergo-Formed Handlebar
Advanced ergo-formed handlebar - Featuring impressive curves and soft PVC, this wider bar provides larger users more support, additional Time Trial bar-ends, central ride-easy position and intelligently integrates the WattRate® TFT computer 2.0 by not exposing any cables and allowing the consoles position to adjust inline with the bars.

Off-Set Frame
High performance off-set frame geometry with 155mm Q-factor - The off-set frame design provides a perfect geometry enabling a wide range of bike adjustments. A Q-Factor of 155mm makes the Indoor Cycle feel more like a real bike. The benefits include increased safety, comfort, and efficiency in each and every pedal stroke.

Performance saddle
Comfort performance saddle - The comfort unisex saddle has a sleek design, that enhances the rider performance and overall comfort. Designed with an opening in the heart of the saddle that relieves pressure on the bodies more sensitive parts whilst riding.

Poly-V Belt Drivetrain
Poly0V belt drivetrain - The drivetrain equipped with Poly-V belt is capable of transferring extreme levels of torque smoothly and its 1:10 gear ratio generates an incredibly fast flywheel speed. Requiring less maintenance, belts save the club owner money and decrease liability. They have fewer breakdowns and make less noise.

4-way adjustments
Superior vertical & horizontal bike adjustments - Superior 4-way adjustments (saddle height, saddle fore/aft, handlebar height, handlebar fore/aft) ensure a finely-tuned fit for all riders. The handlebar integrated user assist technology makes adjustments easier, safer and faster. High-grade aluminum seat and handlebar posts with protection inserts reduce weight and are more durable for the club owner.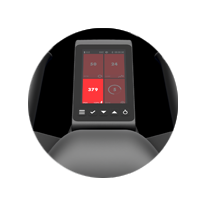 Wattrate Power Meter
Wattrate Power Meter - The WattRate® power meter enables to display the user's effort in watts with a high accuracy.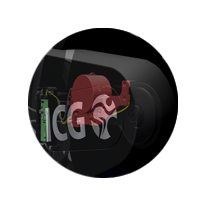 Self-Powered Generator
Control the green energy. And your own - Renewable, green-energy. No batteries required. Capturing the riders energy the compact generator at the flywheel recharges the bike's integrated lithium polymer battery. This self-powering technology feeds all the bike's electronics and empowers the full color display on the WattRate® TFT computer 2.0 in any environment.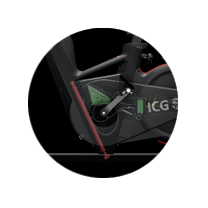 User Assist Adjustments
Adjustments has never been esier - ICG's user assist handlebar post technology reduces the handlebar weight to minimize setup challenges. A system that provides a maximum user comfort.
PERFORMANCE INSIGHT, DONE RIGHT
Access all the data you need when you need it. See lap and workout summary information directly on the screen. Let couc by Color Zones guide your intensity. Monitor intesity factor (IF) and train stress score (TSS) to keep you on track.
DISPLAY 1
Shows actual performance data in one screen view, including rpm, resistance level, watts, training zone and dynamic lap function.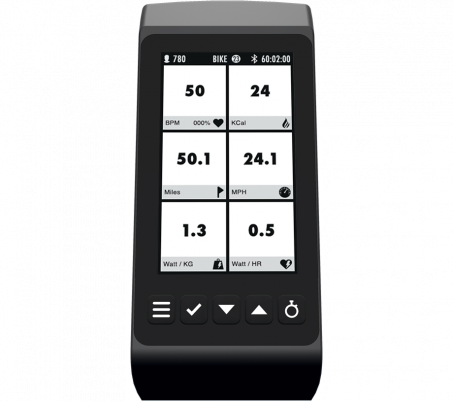 DISPLAY 2
Shows more detailed performance data such as as heart rate, watt/KG and watt/HR.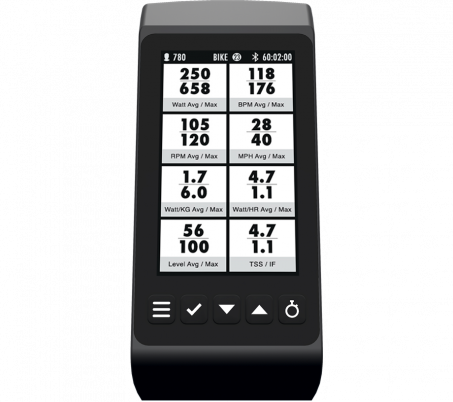 DISPLAY 3
Provides a quick review of maximum and average performance values during the workout.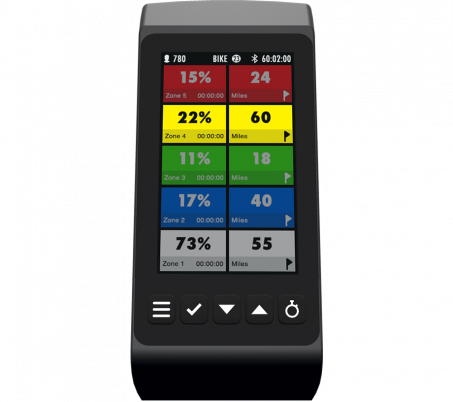 DISPLAY 4
Displays real-time feedback of time in each training zone along with how many miles and calories have been burned in each training zone.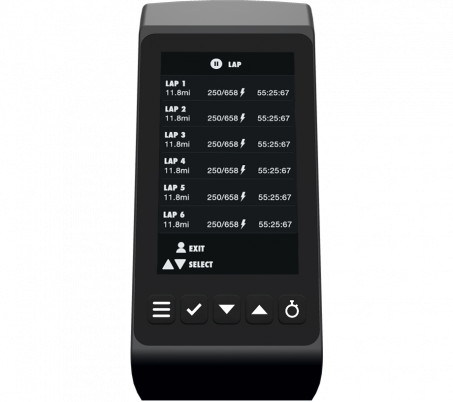 SUMMARY
Shows the user's lap times average and max power in watts.
Compare for yourself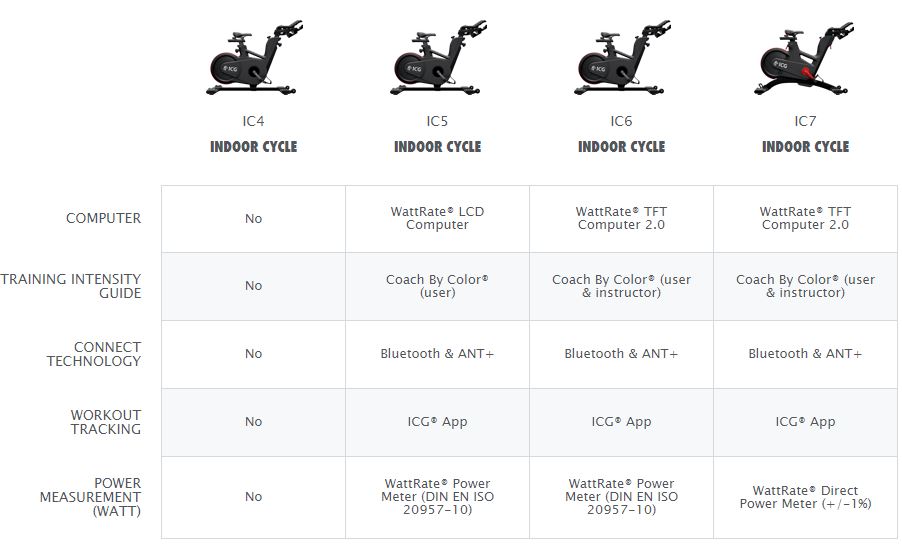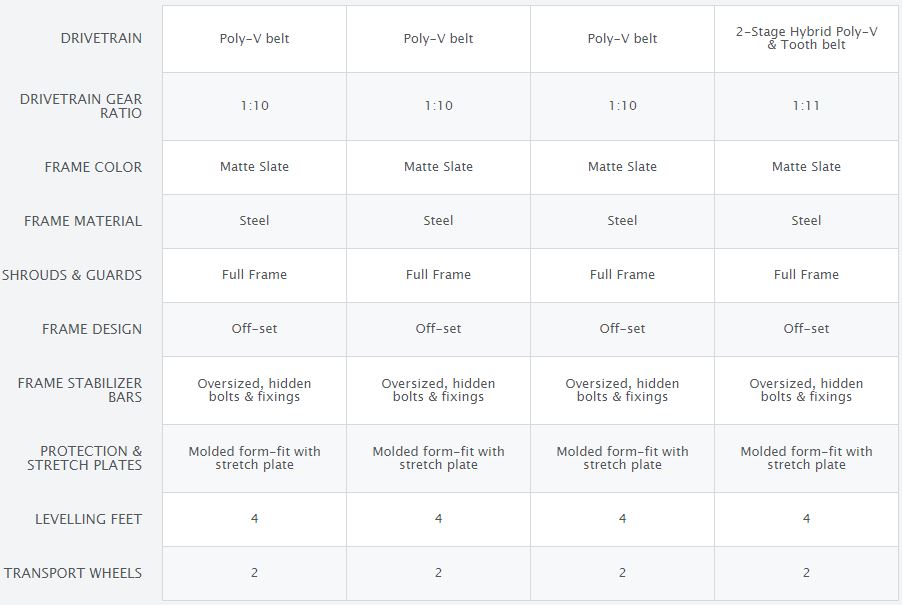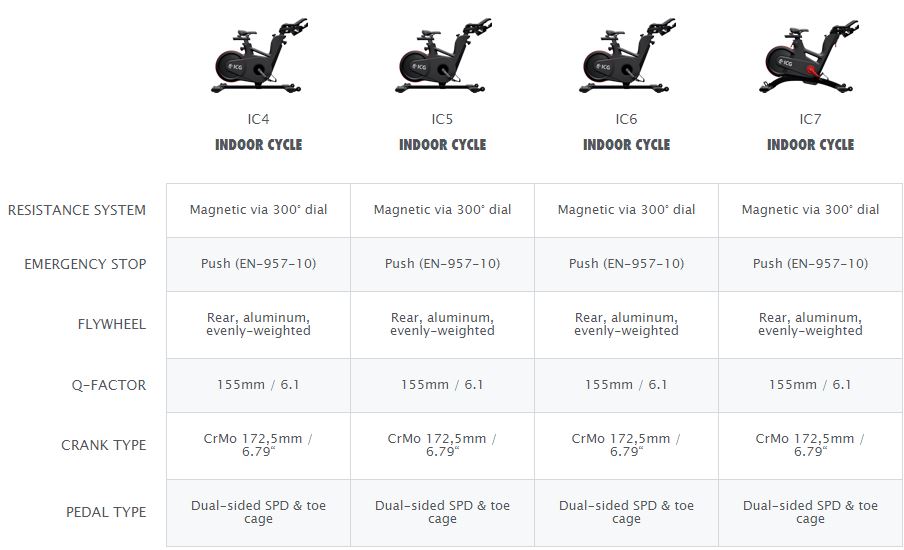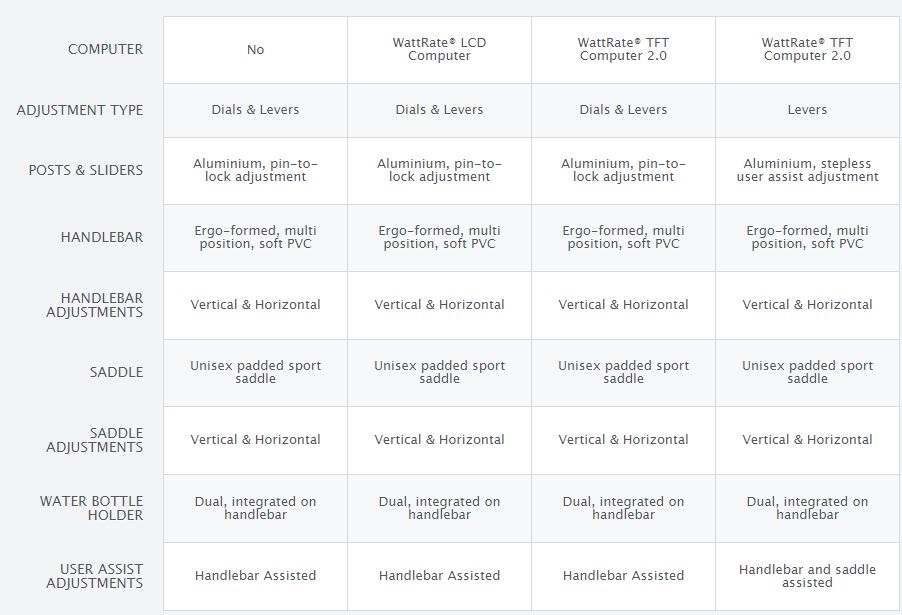 IC6 iepazīstina ar unikālu WattRate® TFT datoru, kurš ir mēra lielotāja jaudu treniņa laikā, piedāvā datu apmaiņu ar ārējām ierīcēm un intensitātes ceļvedi Coach By Color®. IC6 velostrenažierim ir arī pašpiedziņa, kas uztver Jūsu enerģiju minoties.
WATTRATE® COLOR TFT KONSOLE
WattRate® pilnkrāsu TFT datoram ir spilgts, pašuzlādējošs, pilnībā integrēts TFT ekrāns un priekšējais LED displejs. Ekrāns parāda daudz vērtīgu treniņu datu, piemēram, jaudu, sirdsdarbības ātrumu, vingrinājumu ilgumu, pretestības līmeni.
WATTRATE® JAUDAS MĒRĪTĀJS
WattRate® jaudas mērītājs parāda precīzu Jūsu piepūles mērījumu vatos. Datu precizitāte tiek sasniegta, izmantojot patentēto spararata nolaišanas tehnoloģiju, braukšanas laikā pozicionēšanas sensors mēra magnētisko bremžu sistēmai piemēroto pretestību.
ENERĢIJU PAŠĢENERĒJOŠS ĢENERATORS
Atjaunojama, zaļa enerģija. Nav nepieciešamas baterijas. Uztverot enerģiju, kompaktais spararata ģenerators uzlādē velotrenažiera integrēto litija polimēra akumulatoru.
POLY-V Siksnas piedziņa
Piedziņa, kas aprīkota ar Poly-V siksnu un tās pārnesumskaitlis 1:10 rada neticami ātru spararata ātrumu.
155MM Q-FAKTORS
Piedāvā izcilu biomehāniku. 155 mm Q koeficients liek IC6 justies vēl vairāk kā īstam velosipēdam. Ieguvumi ietver paaugstinātu drošību, komfortu un efektivitāti.