LIFESPAN C5I HOMETRAINER BIKE
Do you like to be challenged a bit? Do you love cycling? Or do you just want to train effectively? You can, with the Upright Bike Hometrainer C5i. Exercising on this bike is more challenging, because you have to keep pedaling to power it up and keep it running. Pedaling through is also the only way to get the display to work. This is a strong motivator for you to keep cycling. LifeSpan Fitness C5i exercise bike for semi-professional use with a height-adjustable bicycle saddle, holder for your water bottle and an LCD monitor with 36 training programs and a tablet holder for tablets or smartphones. The LifeSpan Bluetooth 4.o/ANT+ Heart Rate Monitor with chest strap is included.
Why LIFESPAN C5I HOMETRAINER BIKE?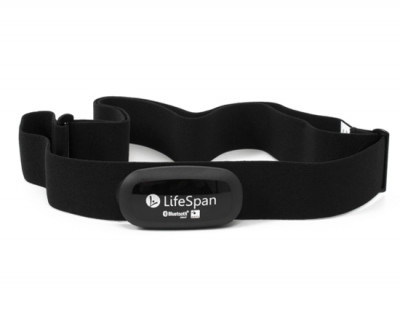 Accurate heart rate measurement
The C5i is the upright bike for goal-oriented training thanks to the free LifeSpan Heart Rate Monitor Bluetooth 4.0/ANT+ with chest rate strap it comes with. This way you can precisely measure your heart rate during training. Goal-oriented heart rate based training helps you to effictively slim down and improve your level of fitness and health..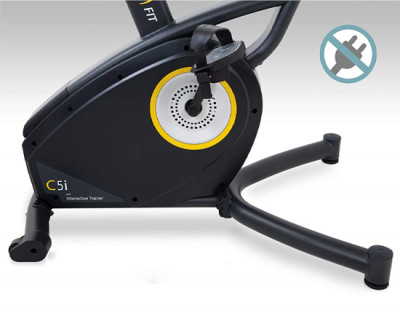 Cordless hometrainer
A nice feature of the C5i is the self-generated power system. Because of this the upright bike doesn't have to be placed near a power socket because it generates it's own power. You can place the bike anywhere you like and you can also easily lift it and store it in a space-saving way. It's also very profitable to your wallet and eco-friendly.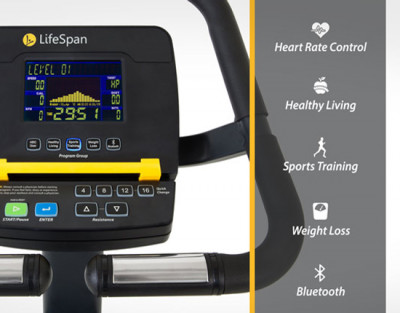 Great number of nice training programs
The C5i fits all your fitness needs and goals. With its 5 Weight Management programs, 5 Healthy Living programs, 7 Sports training programs and 2 customized programs you can train various and effective. The bike also has two special heart rate programs for goal-oriented training, Interval Heart Rate and Constant Heart Rate. In the Interval program, you set a minimum and maximum heart rate and let the upright exercise bike control the resistance, taking your heart up to the maximum set rate and then back down all within preset interval program. At the Constant program, you set a single target heart rate, with the bike adjusting the resistance to keep you at your target. Whether you want to slim down, improve your fitness level or add some activity to your day, the C5i will be there every step of the way.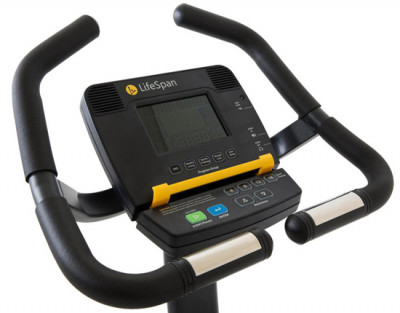 Media-holder and built-in speakers to keep you entertained
You won't get bored for a moment with the C5i. The exercise bike has a media-holder to place your tablet or smartphone. Besides keeping track of your training results you can entertain yourself on the internet, by watching a movie, with your favorite series, by putting on exciting music or by reading a good book. You can use the built-in speakers to connect your iPod or headphones to the exercise bike to train with your favorite beats. The C5i Upright Bike is the best hometrainer if your goal is to get fit by long and intensive cardio endurance training.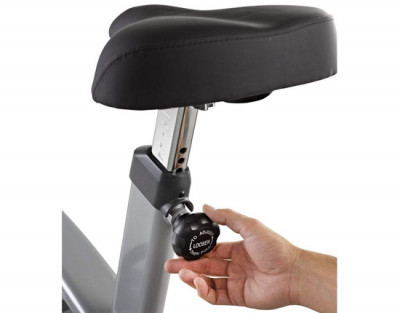 Seat manually adjustable in height
The C5i features a manual height adjustable seat. The seat can be heightened in 19 positions between 76 and 104 cm measured from the lowest stand of the seat to the pedals. The hometrainers offers great comfort and an ergonomic training position to athletes measuring from 152 to 203 cm..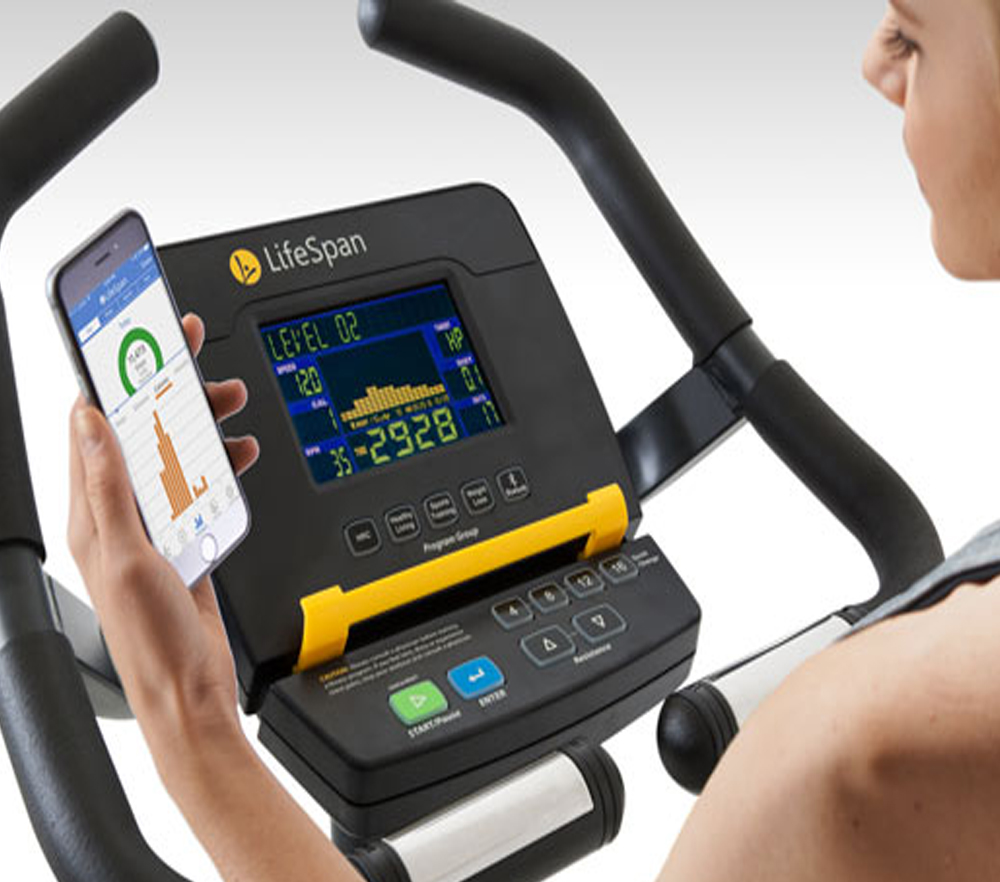 Free Lifespan Club membership for an overview of your training data on your desktop or smartphone
Another reason to buy the C3i Upright Bike Hometrainer is the free LifeSpan Club membership that comes with it. With this membership you can save your training results in the Cloud and view them on your desktop or smartphone. With the included USB data port you can save and store your training results, namely the rotations per minute (RPM), distance, calories, workout time, heart rate, speed, resistance level and watts and upload this data to your LifeSpan account when you're done training. You can use your desktop or the LifeSpan Fitness app (available at the Google Play store) to log in to your LifeSpan account and view your training results. Either way you'll always have your workout results at hand.