Thorax Trainer Skiergometer Pro Cardio
Continues to be distinguished by its super rail sliding system. The sledges to which the pair of sticks is connected are ball-bearing and can therefore withstand the highest loads over a long period of time. This track system impresses with its almost smooth running. 96% agreement with cross-country skiing on snow speaks for itself. The quality of the ski ergometer Pro Cardio has convinced our customers. For this reason, we have now also been able to reduce production costs after increasing sales worldwide. Take advantage of this success. We would like you to be part of it and offer you the professional version at a sensational price.
Why Thorax Trainer Skiergometer Pro?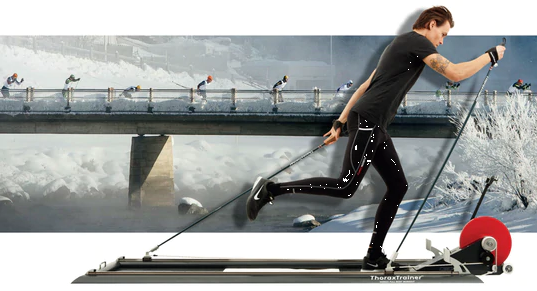 The New Thorax Trainer - The Best Ski ergometer now for everyone!
We want you to be successful and supply you with the right device. It doesn't matter whether you are a cross-country skiing professional, a hobby cross-country skier or just looking for a great training opportunity, the Thorax Trainer ski ergometer Pro Cardio will help you to achieve your goals. You will see clear training effects after a short time. The thorax trainer allows you to do a functional full body workout and you can use the thorax trainer computer to measure your improvements. The new version will be shipped with a pair of sticks. These can be flexibly adjusted to the size of the user. Pairs of sticks with fixed sizes can also be ordered as an option.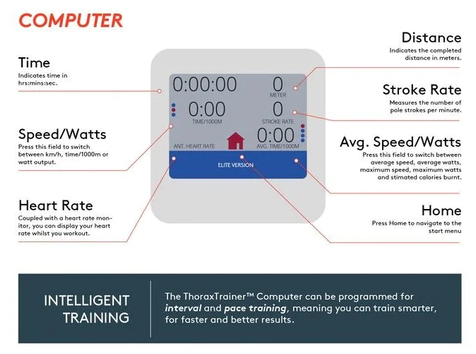 Measure your progress
The Thorax Trainer ski ergometer computer allows you to evaluate your training and technique in detail. Your performance on the cross-country ski run, on the bike, in the swimming pool or on the running track will improve significantly. The thorax trainer enables a joint-gentle and functional full-body workout, which is more effective than training on the rowing machine. You will also receive a training manual with 12 different programs. Over 40 exercise videos help you achieve your goals. Improve lasting, endurance, core stability or VO2Max. 3x 10 minutes per week are enough to see significant training effects. Activate up to 96% of your muscles and burn up to 1500kcl/h with just one device